Sub Suites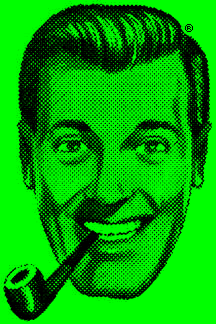 The latest news in the world of the Subgenius is that, Stang finally released some of the old Sub G films/videos on DVD, including the MTV One Minute Movie. This also contains the 40 minute "making of" which has shots of me here and there doing the physical effects.
Stang blathers about it on his
Blog.


"

GREAT DOBBS ALMIGHTY DVD





Includes the 1984 NIGHT OF SLACK Devival, The Making of SUBGENIUS/MTV, "Bob's" Lunch Hour, 1990 SubGenius Art Gallery Show, and more





NIGHT OF SLACK -- The legendary 1984 San Francisco revival at which "Bob" first 'died.' Pope David N. Meyer, The Band That Dare Not Speak Its Name, Dr. Hal, Rev. Ivan Stang, Pope Sternodox, Doktors 4 "Bob".





MAKING OF MTV/SUBGENIUS (1991)




You'll "LAK TO DIE" when you see Dobbs in a flying saucer, blowing up the MTV building (a pyramid with an eye on it); the stop-motion death in flames of Barbie and Ken; live recreations of two SubGenius book covers; and Dobbs being worshiped by slinky devil-girls in Hell. During the sometimes surreal shooting, we also shot this 40-minute look behind the scenes.





The SUBGENIUS ART SHOW AT PSYCHEDELIC SOLUTION GALLERY, NYC (1990) -- now fully subtitled so you can tell who the "famous" celebrities are!





"Bob's" LUNCH HOUR starring Dr. Philo Drummond as "Bob" (Started in1977 - finished in 2007)





Dr. Hal interviewed re: "Bob's" Shooting, 1984





UNSEEN INTERVIEWS: LIES (Paul Mavrides), Pope Sternodox and Puzzling Evidence - uncut footage from 1981 World SubCon videos, shot for Showtime "What's Up America"; LIES & Puzzling Evidence - 2-minute "interview" from 1985; Dr. G. Gordon Gordon Goes Fishing with Snavely and Philo - 1991

"
This DVD came mysteriously to an old address of mine in a plain manila envelope. No note...nothing.
Also..The sin-sational tome,
Revelation X
, is being re-released unto the world once again. I mention this 'cause I got some illustrations in there.
Supposedly I've a drawing or two in the new SubG rag, the
BOBLIGRAPHON.

I'm not sure, I got a check for something I drew in a book. Somebody find out..buy a copy and let me know.